PSNI 'not doing enough' for sex trafficking victims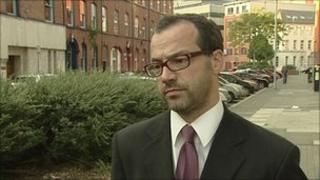 The PSNI could do more to help victims of sex trafficking, the head of Amnesty International in Ireland has said.
Patrick Corrigan said the police are letting victims down because they do not feel safe enough to go to court.
"There are things that could be done here. We can better protect the women and we can better prosecute the offenders," he said.
His remarks follow a BBC investigation that found up to £500,000 every week is spent on prostitution in NI.
Police estimate there are 88 brothels in operation, with Northern Ireland having a higher demand for prostitution than most other areas of Europe.
The brothels are usually run by local gangs, including paramillitaries, but there are also foreign groups.
Violence
Many of the women working in the brothels have been trafficked from abroad. They are held captive and forced into prostitution.
Mr Corrigan said men who willingly pay for sex with these women should face charges of rape.
"I think that it is a case of rape when it is clear to the person buying their services that that woman is there under false pretences or under threat of violence," he added.
"I think those men are potentially responsible for rape. That is what it feels like on the receiving end."
However, Mr Corrigan admitted successfully prosecuting these men would be "extremely difficult".
"Obviously this is a very underground crime. These women are terrified of the people who have put them in that position and terrified of being sent back to their countries of origin.
"I think those women are not yet properly receiving assurance that they will be safe and protected in order that they can freely co-operate with authorities and help bring forward prosecutions."
Convictions
The problem is most evident in Belfast, but other towns and cities - such as Londonderry, Antrim, Enniskillen, Portadown and Bangor - are known to have brothels.
The gangs can make millions of pounds in a year by exploiting women they have brought to Northern Ireland illegally.
The PSNI have broken up some of the prostitution rings and rescued dozens of women from the sex trade over the last couple of years.
However, new women are being brought in from abroad and often the women are so traumatised by their experiences they can't help the police bring convictions against the gangs.
So far there have been no successful prosecutions.
PSNI Detective Inspector Douglas Grant said the public needed to know the full extent of the problem.
"There's a significant demand in Northern Ireland for prostitutes and that's larger than other parts of the UK and Europe," he said.