McCausland asked to 'come clean' over Red Sky decision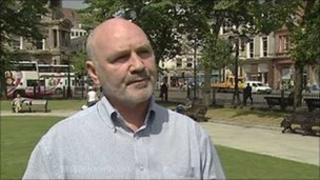 The chairman of the Social Development Committee Alex Maskey has asked the Minister to "come clean" about why he intervened in a dispute between the Housing Executive and Red Sky.
The executive ended its £8m contract with the Belfast company in April.
Last week Nelson McCausland told the Housing Executive to re-instate the firm until a new system for awarding contracts was introduced.
But Mr Maskey said he wants more details.
"I want the Minister to come clean with this matter," he said.
"His party has taken a very keen interest and a number of his senior colleagues have quite intensively met with and lobbied on behalf of this company.
"This is very shaky legal ground and that is why I want the Minister to come clean and give the public a full and transparent explanation of what is the basis of his intervention."
The Housing Executive ended all its repair contracts with Red Sky after it carried out an investigation into its work practices which included allegations of over-charging.
Shortly after the contract was terminated Red Sky went into administration.
The firm has always denied the allegations.