'MTV generation' blamed for east Belfast parade trouble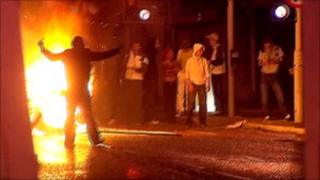 The Orange Order has blamed what it calls the "MTV generation" for on-street drinking which community workers say fuelled trouble at a parade in east Belfast on Friday.
It came after the order and the police pledged a robust approach to those drinking near parades.
Six police officers were injured and vehicles were damaged following a "mini Twelfth" parade.
Order Grand Secretary Drew Nelson said action was needed.
"We are finding that a lot of young people, more than there used to be, are on the streets not just during our parades, but at other festivals and fleadhs that happen in the province," he said.
"More young people seem to be drinking on the streets than was formerly the case.
"My analysis is that these young people, what they think is cool and socially acceptable they don't take their lead from the Orange Order or the churches or the traditional organisations, but they take it from the media, they take it from people like MTV.
"What I think is quite damaging is the fact that the MTV awards are coming to Belfast and it has become public now that there is going to be an all-night bar licensed to sell alcohol right through to six o'clock the next morning.
"Personally I think that sets a very bad example for young people."
Off-licences
Last week it emerged that no decision had been taken over an event party following the MTV awards in Belfast because licensing laws forbid the selling of alcohol after midnight on Sunday.
The city will host the MTV music awards in November, but when told about the drinks licensing laws, the organisers wrote an e-mail to Belfast officials saying: "Shutting the bars... isn't an option and would create enormous problems".
The MTV event will be held in the Odyssey arena and it was thought likely that the all-night party would be in the nearby Pavilion bars. One possible compromise being examined is for a private party for the stars to be held in the former Harland and Wolff paint hall in the Titanic quarter.
Mr Nelson said he felt social policy regarding the regulation of the sale of alcohol in Northern Ireland had been a "massive failure over the last 20 years".
"There are far more people obtaining their alcohol from supermarkets and the problem there is when it comes to consumption, there is no regulation," he added.
"I hear stories in towns of taxis going to off-licences and getting alcohol and delivering it to teenagers and there must be older people going into the off-licences and getting it for them so this is a problem for society."
Mr Nelson said the drinking problem was "absolutely massive", but the order wanted to play its part in tackling it.