PSNI legal action 'could hinder' Disappeared searches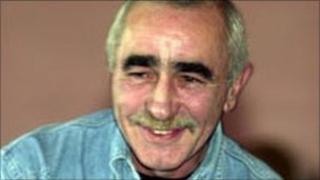 A PSNI attempt to seize interviews given by former paramilitaries to a US college could disrupt attempts to find the bodies of the remaining Disappeared, it has been claimed.
They are being sought by detectives investigating cases of people murdered and secretly buried by the IRA.
Geoff Knupfer from the Commission for the Location of Victims' Remains said it could put people off coming forward with information.
Nine victims have been found.
The commission is still trying to locate the bodies of seven other men.
The recordings, held by Boston College, are of former republicans and loyalists talking about their actions in the Troubles.
They were carried out by researchers working on an oral history project in the late 1990s.
In return for honest accounts, they promised their interviewees confidentiality and assured them their accounts would not be made available until after they had died.
Criminal case
Police launched a legal bid in May for access to the confidential archives.
This is the first time they have tried to use the Boston College oral history collection to build criminal cases.
The subpoena seeks accounts from two former IRA members who accused Sinn Fein leader Gerry Adams of running a secret cell within the IRA that carried out the kidnappings and disappearance - something Mr Adams has denied doing or having any knowledge of.
Mr Knupfer said: "It has been brought to our attention by a number of intermediaries that potentially this application that has been made by the PSNI could put people off contacting the commission with information about the location of victims' remains.
"Clearly that worries us and we are very anxious to make it crystal clear that any information passed to the commission can not by law be passed onto any other person or organisation, nor can it be used in a criminal prosecution.
"It can only be used to recover and repatriate victims."
He said any information that the commission currently had or was passed to them in the future would be retained by the commission.
'Safe and secure'
"It will certainly not be handed over to Boston College in the future, nor to the government or any law enforcement agencies.
"Information passed to the commission is safe and secure and will remain so."
Mr Knupfer said he was aware that there were "other people out there who have information and for various reasons aren't in a position to pass that onto us directly".
"Many have moved on, they have left the organisations they were involved in many many years ago and might be pillars of society, or have families who have no idea of their background.
"We would appeal to anybody who finds themselves in that situation to please contact us.
"We will deal with them in absolute confidentiality, we will not pass on the fact that they have spoken to us to anyone at all."