Former Alliance leader Sir Oliver Napier dies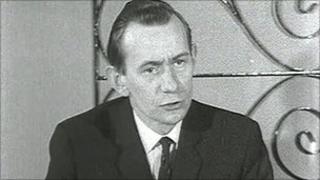 The first leader of the Alliance Party, Sir Oliver Napier, has died at the age of 75.
One of the party founders, he was its leader from 1973 to 1984.
Alliance formed in 1970, shortly after the start of the Troubles. Its aim was to create a moderate party that would appeal to Catholics and Protestants.
"We are creating an alternative reform political programme to push through and continue reformation in Northern Ireland," said Sir Oliver at the time.
Born in 1935 in Belfast, he was educated in St Malachy's College Belfast and Queen's University where he obtained his Law degree before entering his father's practice, Napier and Sons Solicitors in Belfast.
Raised a Catholic, Sir Oliver believed Catholics and Protestants could work together to achieve a peaceful non-sectarian society.
In 1974, during the short-lived power-sharing parliament following the Sunningdale Agreement, he became the legal minister and head of the office of legal reform.
In 1979 he stood in the General Election in the predominantly Protestant East Belfast.
Although he did not win, he came within 1,000 votes of the winning candidate Peter Robinson.
Mr Robinson, now Northern Ireland's first minister, held the seat until 2010 when Naomi Long won the first Westminster seat for the Alliance Party.
'Visionary'
In 1985 he was knighted in the Queen's Birthday Honours List.
Alliance leader David Ford said his legacy could be seen at the heart of the party.
"Oliver embodied the spirit of Alliance and he was the man who inspired me to join the party," he said.
"Oliver was a statesman and a visionary. His vision was of a united Northern Ireland and he put his heart and soul into bringing that about.
"He was ahead of his time but the vision he had is demonstrated in all the excellent work being done to improve community relations in Northern Ireland."
Sir Oliver's son, John Paul Napier, said that despite entering politics during the Troubles, he was "eternally optimistic that a meaningful partnership between both sections of the community was possible".
"It was therefore a great comfort to him in his latter days to witness an operational power-sharing Executive in place which commanded widespread support throughout all sections of our divided community," he said.
"He was particularly pleased that Alliance had secured two Ministries in this Executive and that the sitting MP for his beloved East Belfast was Alliance."
Sir Oliver is survived by his wife Briege, nine children and 23 grandchildren.