Man accused of stabbing Harry Stockman refused bail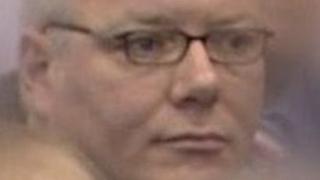 A man admitted stabbing a senior loyalist more than 10 times in a busy supermarket after "something cracked in his head", the High Court has heard.
David Madine claimed repeatedly knifing Harry Stockman during a chance encounter at a north Belfast Tesco store was the only way to kill him, a judge was told.
The 40-year-old accused, of Innishargie Gardens, Bangor, faces a charge of attempted murder.
He was refused bail.
The court heard the victim was stabbed in excess of 10 times during an attack in the fruit and vegetable aisle of the Ballygomartin Road supermarket on April 20.
The victim suffered kidney, colon and bowel injuries.
Crown counsel Nicola Auret said his assailant then calmly walked out of the store and was seen on CCTV heading towards Twaddell Avenue.
Blamed
Police stopped the suspect, bare-chested and carrying a knife and T-shirt, the court heard. His hand appeared wet with blood.
Ms Auret said following his arrest Mr Madine made references to the earlier murder of his friend Bobby Moffett on Belfast's Shankill Road.
The Ulster Volunteer Force has been blamed for shooting Mr Moffett in May 2010.
In a statement read out while in custody Mr Madine claimed to have known Mr Stockman for more than 20 years.
Ms Auret said the accused alleged that he was in Tesco, saw the victim, and "something cracked in his head".
He took his partner out of the store, told her to go and then allegedly returned to look for Mr Stockman.
"When questioned he admitted it was his intention to kill Mr Stockman as he wanted him dead," the prosecuting barrister said.
"He said he knew stabbing him repeatedly was the only way to kill him."
Mr Madine also apologised to all the shoppers and staff who were in the supermarket at the time, she added.
Opposing bail, Ms Auret drew attention to press interviews given by the accused where he allegedly expressed no regrets.
"The prosecution view is, if released, he has nothing to lose and there is a very real risk he will carry out the threats to, in fact, kill Mr Stockman."
The court also heard Madine is being held in isolation within Maghaberry under a twenty three and a half hour lock-up for his own safety.
Bail
Petrol bomb attacks have been carried out on the homes of his family and friends, it was alleged.
Charles McCreanor, defending, detailed how a suspicious car drove past Mr Madine's house on the day of the stabbing.
"He thought it was about to be his turn to be killed," he said.
Mr McCreanor added that Mr Madine claimed to have carried a knife due to threats having been issued against him.
"He said this was a chance meeting," the barrister told the court.
"He apologises for what he recognises must have been an horrific spectacle for all other members of public and staff in the shop."
But despite a potential bail address in England being available, the judge refused to release him.
Mr Justice Hart said: "His attitude at the time and subsequently, makes it abundantly clear there is a risk of further offences."