Battle of the Somme commemorated at Belfast City Hall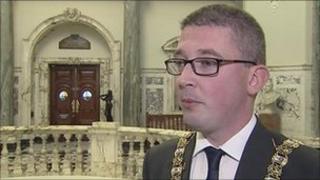 The Battle of the Somme has been commemorated at Belfast City Hall.
Deputy Lord Mayor Ruth Patterson of the DUP led the ceremony which marked the 95th anniversary of the WWI battle.
Belfast's Lord Mayor Niall O Donnghaile did not attend - he laid a wreath earlier continuing Sinn Fein policy of not attending the main commemoration.
Soldiers from the 36th (Ulster) and 16th (Irish) divisions took part in battle between 1 July and 13 November 1916.
The 36th sustained 5,500 casualties on the first day, with nearly 2,000 of those fatalities.
During the battle in September the 16th had 4,330 casualties, of whom 1,200 were killed.
The Battle of the Somme claimed the lives of 420,000 British soldiers.
Mr O Donnghaile upset a DUP councillor earlier this month by removing portraits of Prince Charles and the Queen Mother from the lord mayor's parlour.
He replaced the images with the 1916 Proclamation and a portrait of the United Irishmen.
He said he was creating balance by retaining portraits of the Queen and Prince Philip.
The DUP's Christopher Stalford criticised the move.