Rory McIlroy on US Open, belief and a party with JLS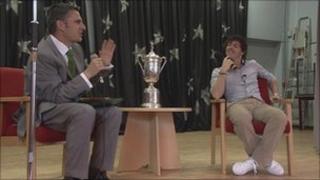 As Northern Ireland golfer Rory McIlroy returned to his old school Sullivan Upper in Holywood, another ex-pupil - the BBC's Mark Simpson - asked him about life before and after his recent US Open success.
How have you coped with the recent global attention?
It's ridiculous. I didn't think what I've done would create such a stir, but it's been fantastic.
Tell us about the day you told your headmaster John Stevenson you were leaving school at 15 to concentrate on golf?
I went to him and said 'Mr Stevenson - I'm away see you later!'. No, I went to see him with my mum and dad and he was very, very supportive of what I was trying to do, to pursue my career in golf. And I was very thankful to him for letting me pursue that.
What was your favourite subject at school?
PE.
Least favourite subject?
English Literature.
Favourite teacher?
They were all great.
Pack lunch or school dinners?
A panini every day. That was me.
What was your hair like at school?
It was a little shorter than it is now. When I was that age, you sort of have to do what your parents tell you, and my mum and dad always liked me to keep it short.
How did you juggle golf and schoolwork?
It was very tough to try to balance everything but I tried my best. All I wanted to do was play golf.
Your old headmaster says you were a very intelligent pupil.
He's lying. (Laughs)
How did you stay so focused during the US Open amid all the hype?
At golf tournaments, I like to stay away from things. I don't read newspapers, I don't watch TV, I just try to get away from it all. I didn't tweet for a week, I just kept everything quiet.
What did you think after leading the US Open after day one?
It was a good round but I knew there were 54 holes still to play and anything could happen.
What did you think after still leading the US Open after day two?
I had been 13 under and then I took a double-bogey playing the last so I wasn't too happy. I just needed to keep reminding myself that it was nowhere near over.
What did you do the night before the final round?
I was planning on going to watch a movie, The Hangover Part II, but ended up falling asleep. I didn't go to sleep until half one or two in the morning but slept in to 12 so it was nice.
In spite of your Masters meltdown, you looked calm at the start of the final round, were you?
No! It was a huge thing for me to birdie the first hole because it really settled me down, and from then I could focus on my game and get into a nice rhythm. The reception I got on the first tee helped as well to calm me down.
Tell us about the celebration party at your house in County Down with pop group JLS?
I didn't know anything about it. I just saw this car coming down the driveway and I thought 'who are these guys? I don't really know them'. And then it hit me - yep, that's JLS. Holly, my girlfriend, organised it along with my friend Harry Diamond and we had a great night.
Who are your sporting heroes?
Tiger Woods was a huge hero of mine growing up because of watching him winning all those majors and winning them by so many shots. It was something that I aspired to. When England won the rugby world cup in 2003, I was really impressed with Jonny Wilkinson. Moving forward the sports person that I look up to most now is Rafael Nadal. He never gives up. His determination, his focus, is something that I can learn from.
What are your next goals?
I want to try to give myself the best chance to win the next couple of majors and just try to keep getting better.
What is you advice to other young people?
Believe in yourself. Believe that whatever you want to achieve in your life is attainable. I had so much self-belief, and I knew what I wanted to do. If you have that conviction, and you have that deep belief, then anything is possible.