Solicitor accused of 'David Ford smear attempt'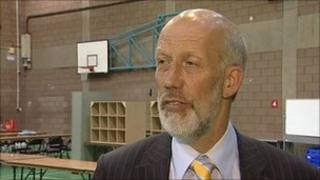 The justice minister has written to the Law Society urging them to investigate the behaviour of a leading Belfast solicitor, described as an attempted smear of David Ford.
Mr Ford disclosed the move to the assembly's justice committee after details emerged of a leaked e-mail.
It is said to have been written by solicitor Kevin Winters.
Mr Winters said as the issue was the subject of a complaint and counter-complaint he could not comment on it.
DUP MLA Jim Wells said the e-mail sent to representatives of the Solicitors Criminal Bar Association (SCBA), referred to an alleged relationship between Mr Ford and another solicitor who said he was prepared to accept reduced legal aid payments.
The SCBA has been campaigning against the new payments.
Mr Ford said he had been contacted by two journalists asking about an alleged friendship with the Antrim solicitor Gary Bell or his wife.
Mr Ford told the committee he had described those claims, and a suggestion that Mrs Bell had signed his election papers, as "utter rubbish".
He said he did not know the couple and to the best of his knowledge had never met them and had subsequently written to the president of the Law Society suggesting this was perhaps an issue concerning the professional behaviour of one of its members.
Mr Wells claimed that Kevin Winters' firm has received £16.5m in legal aid in the past five years.
Another DUP committee member Peter Weir said it was a "disturbing development" and appeared to be an "attempted smear" against the minister.
The committee chairman Paul Givan said he was meeting the Law Society on the issue in mid-July and suggested the committee formally writes to the society and call on it to carry out a full investigation.
In a statement, Mr Winters said: ''The Gary Bell issue is the subject of a complaint and a counter complaint to the Law Society and as such it would be entirely inappropriate of me to comment.
"All parties involved should recognise the need for extreme accuracy on those issues. Any erroneous statements will be the subject of litigation.''
In a statement, the Law Society of Northern Ireland said the justice minister had raised the matter with the Law Society and that it had responded.
The Law Society said the issues raised would receive appropriate attention.
Update 30 May 2014: In a statement the Law Society said: "The Law Society of Northern Ireland has closed its files on these matters. The society determined, on consideration of the relevant issues, that the circumstances were insufficient to require any referral to the Independent Solicitors Disciplinary Tribunal. It remains open to all of the parties to pursue their civil remedies."
A spokeswoman for the Department of Justice said the department had "noted the outcome of the investigation."