Rory brings US Open trophy to Sullivan Upper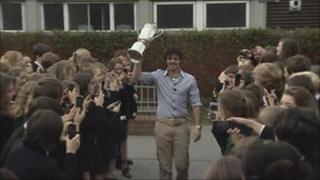 Northern Ireland golfer Rory McIlroy brought his US Open trophy to his old school on Thursday.
The 22-year-old returned to Sullivan Upper School in Holywood, County Down, as the surprise guest at the end-of-term assembly.
There were screams from the pupils as Rory appeared on stage with the silver trophy he won two weeks ago.
He left the school in 2005, just before taking his GCSEs, in order to concentrate on his golf.
Looking around the room, he said: "A few of the teachers will tell you I probably wasn't the best pupil you've ever seen, but it's good to be back."
Balance
He said juggling golf tournaments and schoolwork was not easy: "It was tough. I was away quite a lot so every time I came back I was always trying to catch up.
"It was very tough to try to balance everything, but I tried my best.
"All I wanted to do was play golf and I knew by the time I was 15 or 16 that that was the path I was going to take."
It was also at Sullivan Upper that he met his girlfriend Holly Sweeney.
Now ranked third in the world, Rory is seen as golf's next sporting superstar, with his perfect swing and trademark curly hair.
During his five years at school, he stuck to the rules and kept his hair short.
Parents
"It was a little shorter than it is now," he said.
"When I was that age, you sort of have to do what your parents tell you, and my mum and dad always liked me to keep it short.
"But once I got a bit older I could do what I wanted with it."
Sullivan Upper is seven miles from Belfast and over the years has been better known for its academic prowess than its sporting achievement.
But this year its rugby team won the Medallion Shield and hopes are high that "Rory's glory" will inspire more sporting success.
At the end of term assembly, headmaster Chris Peel revealed what Rory wrote on his entry form when he joined Sullivan at the age of 11.
"I am a keen golfer and I hope to get on the golf team."
Modest McIlroy is now looking to add to his first golf major by winning the Open next month.
Winning
Looking at the gleaming silver US Open trophy, he smiled and said: "I can't really settle on that. I want to go and try to achieve more.
"The Open championship is coming up in a couple of weeks and I want to do my best to win that.
"I hit balls last night, and then I got up this morning to hit a few more.
"It's a big summer ahead. I want to try to give myself the best chance to win the next couple of majors and just try to keep getting better."
Even though he has now left school, it seems Rory's motto is still 'must do better'.