Viable pipe bomb found near Strabane playpark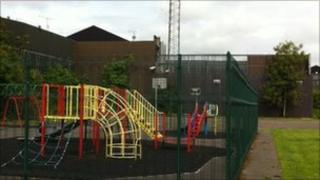 A viable pipe bomb has been discovered near a play park in Strabane.
The device was discovered on Thursday after police received a telephone warning that a device thrown at the town's police station on Wednesday had failed to explode.
Chief Inspector Andy Lemon said people were in the park at the time, and a child could easily have been injured.
"Had a young child lifted this, this device was so large, it doesn't bear thinking about."
"The threat in this area has been severe for some time, and the officers are carrying out a number of security checks.
"I'm most worried by the fact that this was left in an area 50 yards from a playpark, and there were people there young children."
'Catch themselves on'
The mother of two IRA men killed by the SAS, who lives near the police station, said those responsible were only harming their own community.
Patsy Devine said they needed to "catch themselves on".
"Children were up there playing in that park all day.
"Are they out to kill or hurt somebody or what? "They need to leave people alone.
"The war's over, and I don't know what they're at."
SDLP councillor Patsy Kelly condemned the attack.
"Once again, a small minority has sought to drag the good name of Strabane through the mud.
"A child could easily have found this device and thankfully, there were no injuries sustained from this shameful incident."
Sinn Fein Councillor Jay McCauley said it was "a totally futile act".
"The only effect of this act was to cause endangerment and disruption to the local community, especially given the fact that it ended up so close to the local play park," he said.
Ulster Unionist MLA Ross Hussey said: "The fact that those responsible carried out this attack just 50 yards from a children's play area demonstrates clearly that they have no regard for the safety of anyone, even children.
"The device lay unexploded all through Thursday and could have killed or injured any child or parent who happened to be in the vicinity."