39 MLAs register family interests at Stormont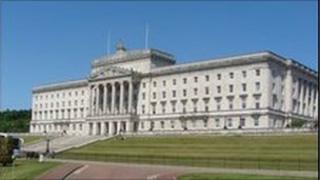 Thirty-nine MLAs have registered employing or buying services from their family members or the relatives of party colleagues.
They completed the section in the latest Stormont Register of Interests.
This covers family members benefiting from the assembly's Office Cost Expenditure allowance.
Twenty-seven of the politicians are from the DUP, four each from the SDLP and Ulster Unionists, three from Alliance and one from Sinn Fein.
Some politicians directly employ their own relatives as researchers or office assistants, other have registered employing family members of other representatives.
Not all those who fill out the section employ relatives - some have paid relatives for work on websites or constituency offices.