Declan Kelly to work with Bill Clinton and Tony Blair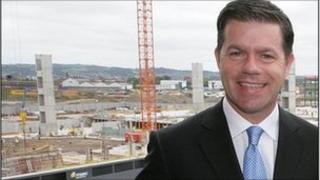 Declan Kelly, who recently resigned as US special economic envoy to Northern Ireland, is to join forces with Bill Clinton and Tony Blair.
The former US president and British prime minister are joining a newly formed company called Teneo.
Mr Kelly set up the company with Douglas Band, a long time adviser to Mr Clinton and Paul Keary.
The company will comprise of a merchant bank, a private equity vehicle and an international consulting business.
Mr Kelly and Mr Band will serve as chief executive officers. Mr Clinton and Mr Blair will both serve as advisers.
Mr Keary worked alongside Mr Kelly at FTI, a global business consultancy
There are plans to open offices in Dublin, New York, Washington DC and London.
Mr Kelly, 42, stepped down from his role as envoy in May, a post he had held since September 2009 when he was appointed by US Secretary of State Hillary Clinton.
Born in Portroe, County Tipperary, he advised Mrs Clinton during her campaign for the presidency.
He is a former vice-president of FTI, a global business consultancy.
Mr Kelly was not the first person to assume the role of special envoy.
The post was initially created by Bill Clinton with the appointment of Senator George Mitchell in 1995.
Following Senator Mitchell's departure to the role as talks chairman, a purely economic role was filled by another Clinton supporter - Denver lawyer Jim Lyons.
The post did not exist during George W Bush's years in the White House but was resumed with Declan Kelly's appointment in 2009.