Health union were 'not consulted' over planned changes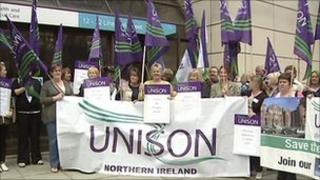 The health union Unison has accused the Health And Social Care Board of failing to consult it on proposals to change the service in NI.
A draft document, which was leaked to the Irish News, discusses a range of issues including the reduction of acute hospitals.
The board said unions would not normally be consulted at this stage.
However Unison Regional Secretary Patricia McKeown said the union should have been engaged in the process.
The proposals were presented at a meeting of the board in Belfast on Thursday. Members of Unison staged a protest outside over any plans to cut services.
Transparent
The proposals include halving the number of acute hospitals, reviewing the midwifery-led units at Downpatrick and Lisburn and cutting 2,000 jobs.
Ms McKeown, who was at the protest, said the board had "a specific duty" to engage with the health union on the plans.
"You can't get to a place today where for the first time the proposals are being unveiled at a public meeting and no one has had sight of them, save on the front of a newspaper," she said.
"It's not the kind of open, transparent and democratic health service we have been fighting for."
However board chief executive, John Compton, said it wanted to engage with all stakeholders, including staff organisations.
He said much of the information was already in the public domain and there "was no desire to exclude anyone from the process".
Mr Compton said that if the plan is approved by the board it will then be sent to all stakeholders including the unions. He added that this was normal procedure.