Civil servants on strike in row over pay and pensions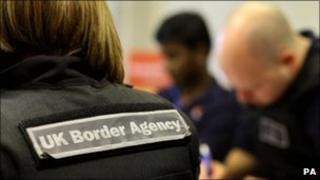 About 3,000 civil servants across NI are on strike in a row over government changes to pay and pensions.
Home Office employees including tax and passport office workers have joined with thousands across the UK.
Many belong to the Public and Commercial Services Union (PCS) - one of four unions taking part.
Belfast International Airport has warned of possible flights delays as immigration and customs officers are also on strike.
Gayle Matthews from the PCS union was on a picket line outside Milliennium House on Great Victoria Street in Belfast.
It houses the headquarters of HM Revenue and Customs in Northern Ireland.
She said it is a myth that civil service workers are better off than the private sector.
"The average pension is £80 a week and that's not a lot," she continued.
"We think it's really unfair of the government to attack our pensions which are really low when they're not prepared to look at their own parliamentary pension scheme.
"They've got money to bail out bankers and allow billions of pounds in bonuses to be paid and yet they attack some of the lowest paid public servants."
Three teaching unions are also taking part in strike action across the UK on Thursday.
They are - the National Union of Teachers (NUT), the Association of Association of Teachers and Lecturers (ATL) and the University and College Union (UCU).
Nationwide, about 600,000 teachers and civil servants are taking part over planned pension changes which, they say, will mean working longer and paying more.
A spokesperson for the passport office said: "On Thursday, all passport offices will be open and those customers with emergency or compassionate travel needs will be able to get a passport."