Bid to resolve Maghaberry Prison strip search issue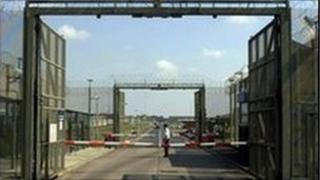 Talks between prison authorities and dissident republican prisoners are being held in a bid to resolve the strip-search issue in Maghaberry jail.
The prison service said it was committed to dialogue with prisoners to address issues of concern.
Lurgan republican Colin Duffy, who is remanded on murder charges, did not appear at his bail hearing on Tuesday.
His lawyer said he had not been brought from the prison "on foot" of the issue of full body searches.
The lawyer asked for the bail application to be adjourned until August.
Prison authorities and republican prisoners also held talks on the strip search issue last year.
A prisons spokesperson said on Wednesday: "The Northern Ireland Prison Service remains committed to the full implementation of the agreement reached last August regarding Roe House and is committed to dialogue with prisoners so that issues of concern can be addressed.
"The prison service has a duty of care to prisoners, staff and the wider public and must take every precaution to ensure that illicit items are not smuggled into or out of prisons.
"There is a requirement on all prisoners leaving and entering prisons in Great Britain and Northern Ireland to undergo a full body search."