Treasury minister: Air tax decision 'before Christmas'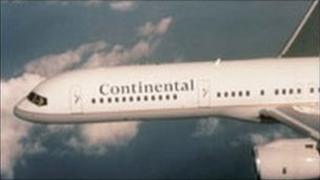 The treasury minister has told MPs that a decision on the future of air passenger tax will be taken "well before Christmas".
Justine Greening said a resolution would be in "the best interests of the whole of the UK".
She would not be drawn on when the final outcome would be made.
Ms Greening was giving evidence to the Northern Ireland Affairs committee on Wednesday. It is examining whether air passenger duty should be scrapped.
Transatlantic flights from Belfast currently have a £60 levy whereas in Dublin the charge is just €3.
Earlier this month Continental Airlines said it may be forced to withdraw its Belfast to New York route because of the tax.
Conor McAuliffe, managing director of Continental Airlines, also gave evidence to the committee.
He told MPs that the air passenger tax was bad for business. He said that his company's Belfast operation which runs flights to New York was making a loss and could not "continue indefinitely".
The route is estimated to be worth around £20m a year.
Chief executive of the Northern Ireland Hotels Federation, Janice Gault, told MPs that the "more tax people see, the more it puts them off".
She said Northern Ireland desperately needs more tourists and "we do not have a mission if air passenger duty stays".
Jeff Gazzard is a board member with the Aviation Environment Federation which is funded by charitable trusts.
He took a very different line from the other witnesses. He argued that the tax gets the aviation industry to "pay its way". He argued that it should stay and the tax must be seen in the context of the aviation industry meeting its commitments to combating climate change.
One option being examined by the Treasury revolves around Northern Ireland getting an exemption.
Another being considered would result in the tax power being devolved to Stormont.
Members of the Northern Ireland Affairs Committee have now heard evidence at Westminster and at Stormont.
They hope to publish their report before parliament rises in late July.