Smithwick tribunal: 'Garda told of IRA death threat'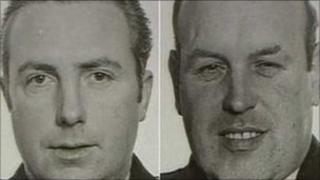 A high-ranking Irish police officer was told of a death threat against an RUC officer up to a year before he was killed in an IRA ambush, the Smithwick tribunal in Dublin has been told.
The tribunal is investigating alleged Garda collusion in the murders of Chief Superintendent Harry Breen and Superintendent Bob Buchanan.
The men were killed in a border ambush in March 1989.
The tribunal heard the death threat was against Mr Buchanan.
Retired Garda Chief Superintendent Tom Curran, who was based in Monaghan town at the time, said he wrote to the assistant commissioner in charge of crime and security at Garda headquarters about a death threat against Mr Buchanan between March and October 1988.
"At one stage in my service in Monaghan during Bob Buchanan's time there, I was speaking to a man who I believed was a member of the IRA and he told me that Bob Buchanan was going to be shot," Mr Curran said.
"The words he used were 'there's a fella crossing the border there to see you and he is going to be shot'.
"You're never sure about the validity of stories like that from informers, but it was a serious matter as far as I was concerned so I wrote direct to crime and security giving that information."
Concerns
Mr Curran also said that Supt Buchanan had raised concerns that Garda Detective Sergeant Owen Corrigan, based at Dundalk Garda Station, was "'unnecessarily associating" with the IRA.
"He called to my office one day and told me that the RUC had information that Detective Sergeant Owen Corrigan was unnecessarily associating with the IRA and the RUC were concerned," he told the tribunal.
He said this happened in 1987.
"It came as a shock to me," Mr Curran said. "I was taken aback that Bob Buchanan would tell me something like this."
Mr Curran then said he questioned Buchanan about the matter and got the impression that the RUC officer was the messenger.
"He asked me to convey what he had told me to the (Garda) assistant commissioner, I told him I would" he said.
As a result Mr Curran said he called to the office of the assistant commissioner in crime and security, Eugene Crowley, in Dublin.
"I told him what Bob Buchanan had said to me, and about other hearsay I had heard about Corrigan," Mr Curran said.
"He just kept looking at the file he was reading, asked me how were things in Monaghan and never mentioned anything in relation to the conversation I had told him about, I got the impression he did not want to hear it and I left a short time later."
The tribunal is unable to put this evidence to Mr Crowley as he is now deceased.
Mr Curran said he got to know his RUC counterpart as a friend after Mr Buchanan visited his station up to three times a week.
Mr Curran said that he never told Mr Buchanan about the IRA threat.
"I didn't want him to get the impression we were trying to prevent him from coming over," Mr Curran said.