Gerry McGeough launches appeal for Queen's pardon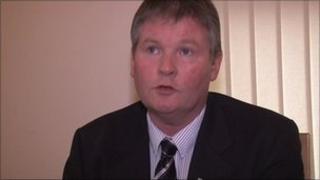 A former IRA man jailed for the attempted murder of an off-duty UDR soldier 30 years ago should be freed under a special pardon granted by the Queen, the High Court has heard.
Lawyers for Gerry McGeough have launched a judicial review in a bid to obtain a Royal Prerogative of Mercy.
The 52-year-old, from Dungannon, County Tyrone, is serving a 20-year sentence for shooting Samuel Brush.
Mr Brush, a postman at the time, was attacked near Aughnacloy in June 1981.
McGeough was convicted of his attempted murder, possession of a firearm and ammunition, and IRA membership.
His barrister argued on Wednesday that he should now be granted the special mercy warrant to ensure equal treatment with other convicted terrorists who have benefited from it.
It was claimed that it would be unlawful to draw a distinction because McGeough was previously jailed abroad.
He was held for four years in German prisons for alleged attacks against the British Army in Europe during the 1980s.
McGeough was later extradited to the United States and imprisoned for three years in connection with weapons offences.
Problem
Under the terms of the Good Friday Agreement he is expected to be released in two years time following his conviction for the attack on Mr Brush.
His legal team contend that the time he spent behind bars abroad should count towards that period.
Barrister Sean Devine argued that McGeough was in an indistinguishable position from others who have received the Royal Prerogative of Mercy.
He told the court: "It's slightly distasteful on one view, but that's the problem with the Good Friday Agreement.
"That's the outworkings of any political agreement."
Mr Devine added: "Although he has had on any view a good result in the sense he was convicted of serious offences and will only have to serve two years for it, that's not the only issue here."
After hearing arguments the judge reserved his decision on whether to grant leave to seek a judicial review.
Mr Justice Treacy said he would give his verdict next week after considering counsels' submissions.