Belfast Trust 'learns lessons' over dental school probe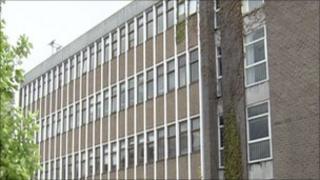 The Belfast Trust has said it has learned lessons following an inquiry into practices at the Royal School of Dentistry.
In February, it emerged that in 2009 the trust had launched a major review of 3,000 clinical records belonging to dentistry patients.
The trust said it was concerned about 22 people, four of them cancer patients who died, three from oral cancer.
On Tuesday, Health minister Edwin Poots said the system let down patients.
He apologised in the Assembly for what he described as the serious failings in the care they received.
The recall followed a review of the work carried out by a consultant, Professor Lamey. He is still employed by the trust, but no longer treats patients.
Mr Poots said an independent inquiry into what happened found there were serious failings in care, communication, timeliness and ultimately the effectiveness of action taken by the trust.
On Wednesday, Colm Donaghy, chief executive of the Belfast Trust, apologised to patients but said the trust had always acted in their interests.
"In this particular case there was delayed diagnosis but there is no direct correlation between the delayed diagnosis and the eventual outcome for patients," he said.
"We have learned lessons and according to the report a Serious Adverse Incident Complaint should have been raised earlier and we accept that.
"We also accept that in terms of communicating and escalating the issue we should have done that at an earlier stage in terms of the former processes, to keep others informed in terms of the progress that was being made.
"What I would have to say is the people involved in this did not deliberately keep this issue secret or quiet, they were concerned about continuing to provide care for the patients involved and always acted in the interests of those patients."
A total of 45 recommendations were made in the inquiry.
It also found there were difficulties with excessive workloads and a lack of adequate administrative support.
Professor Lamey has said he believed he was the subject of unfair criticism and that in 2009 a General Medical Council investigation recommended that no action be taken against him.