'Hundreds of flags' on NI lampposts after summer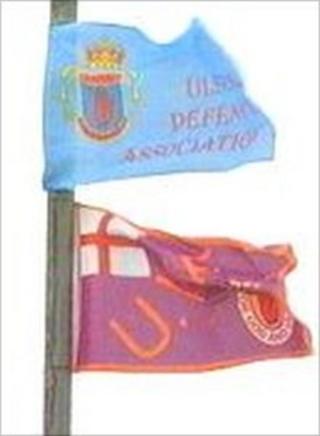 A new report has found hundreds of flags are still on lampposts on main roads in Northern Ireland at the end of summer.
Flags are traditionally a feature of the Twelfth of July celebrations in NI.
A report from Queen's University in Belfast revealed that 3,876 flags were put up along main roads in July 2010.
In September 2010, 1,098 unionist flags remained flying on lampposts while 757 were nationalist - the vast majority of which were GAA flags.
The report found there was a slight increase in the display of paramilitary flags in July 2010. However, since 2006 there has been a decrease from 161 to 102.
The report, Public Displays of Flags and Emblems in Northern Ireland: Survey 2010, was published by the Institute of Irish Studies at Queen's University and is funded by the Office of the First and Deputy First Minister.
It surveyed political symbolism on all arterial routes and town centres in Northern Ireland during the first two weeks in July and last two weeks of September over a five-year period from 2006 to 2010.
Researchers also conducted surveys two weeks after Easter in 2008, 2009 and 2010. In each of the surveys, researchers counted and mapped the different types of flags and other emblems on display.
Dr Dominic Bryan, director at the Institute of Irish Studies, said the issue of flags was "crucial" in developing "a shared and equal society".
"We know from questions asked in the Northern Ireland Life and Times Survey that displays of flags detrimentally affect people's use of facilities and shops in certain areas," he said.
"While expressions of political identity at times of festival and commemoration are common all over the world, there is no doubt that displays in Northern Ireland are left to demarcate territorial space.
"It appears that overall policies developed to create more shared public space by reducing the length of time flags are flown have not been successful.
"Perhaps one thing that could be emphasised in the future is to treat symbols with respect and not leave flags to go tatty and dirty over the winter months."