Francie Molloy is assembly's principal deputy speaker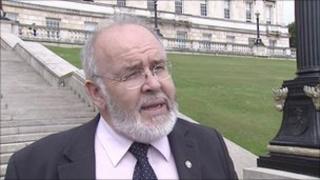 Sinn Fein MLA Francie Molloy has been voted in as the assembly's principal deputy speaker.
The post was created in May when the DUP and Sinn Fein jointly signed a motion for the new position.
It had been widely speculated that Mr Molloy, who is currently deputy speaker, would be appointed to the position.
Last week UUP leader Tom Elliott questioned Mr Molloy's fitness for the new position.
The controversy surrounded remarks Mr Molloy made during a committee meeting at Stormont.
He told members that when Linfield manager David Jeffrey saw him and party colleague Barry McElduff in a restaurant last year, he walked out.
The new role has been opposed by the Ulster Unionists and SDLP who say it will unfairly elevate one deputy speaker above the other two.
SDLP MLA John Dallat and Roy Beggs from the Ulster Unionists hold the other deputy speaker posts.