Ford calls for reform after prisoner MacFerran released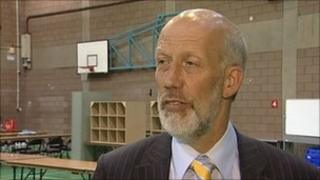 Justice Minister David Ford has said there needs to be "root and branch" reform of the Prison Service after a prisoner was released by mistake from Maghaberry jail.
George Damien MacFerran, 47, was released from custody on Friday, despite having six weeks left to serve on his sentence.
MacFerran was convicted of assault with an offensive weapon.
He was rearrested on Monday afternoon and was returned to custody.
Mr Ford has instructed the Prison Service to investigate how the prisoner was released by mistake.
"We need to look not just at this individual issue, but this is why I have this morning announced the strategic efficiency and effectiveness programme in the Prison Service," he added.
"I have been saying since I became minister over a year ago that there were significant issues that needed to be addressed within the Prison Service.
"We have a significant report due within the next couple of months from the prison review team led by Dame Ann Owers.
"That has made it clear that we are not talking about modest incremental change, there has to be a root and branch reform of the Prison Service."
Mr Ford said a "wide range of reforms" needed to be considered to ensure Northern Ireland got a "fit-for-purpose prison service".
The Prison Service became aware of the error on Monday and informed the minister.
Mr Ford said he was appalled that a prisoner had again been released in error from the same prison.
"I have had an initial briefing on this incident and have directed that a thorough investigation be launched immediately," he said.
"I want to know exactly how this has happened and how it took two days for the error to come to light.
"If it turns out that individuals are to blame the Director General has assured me that appropriate action will be taken."
In Autumn 2010 three prisoners were released in error from prison within two months.
DUP assembly member, Paul Givan, who is chair of the Justice Committee at Stormont, said he was shocked that another prisoner had been released in error.
"The fact that the Prison Service were not even aware that this had happened until the police had apprehended the prisoner and returned him to custody will really set alarm bells ringing," he said.
"After the previous occasions, assurances were given that lessons had been learned, but clearly that is not the case."
Mr Givan said he would be seeking assurances from Mr Ford that the investigation would be "wide-ranging" and that the operational management of the Prison Service was addressed in any strategic review.