Hackballscross, County Louth raid 'prevented NI bomb'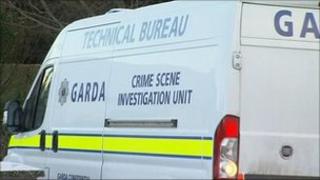 Irish police believe bomb components found in County Louth on Saturday were to be used for a device in Northern Ireland.
The Irish army carried out a controlled explosion at a site in Hackballscross.
Material including fertiliser was found in a farm house and shed.
Police have described the find as significant and are linking it to the dissident group Oglaigh na hEireann. Two men in their fifties have been arrested.
RTE crime correspondent Paul Reynolds said police found 100kg of homemade explosives made from a mixture of ground fertiliser, sugar and ammonium nitrate.
They also also found 120kg of pure ammonium nitrate.
The controlled explosion was carried out on a mortar bomb which was being assembled.