DUP's Peter Robinson plans appeal to Catholic voters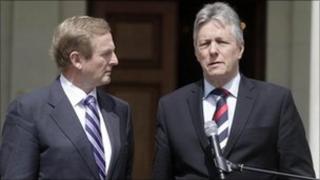 Peter Robinson's plan to start appealing to Catholic voters, like his statement of support for integrated education, is one of those initiatives which - on first sight - makes you want to go back and check that he is the leader of the DUP, not the Alliance party.
Indeed with Alliance coming up on his bow in Castlereagh this may be a recognition from the DUP leader that, with the Ulster Unionists badly wounded, the battles of the future will be over the moderate "happy enough with the status quo" ground.
Mr Robinson's article in the Belfast Telegraph comes in response to the recent Life and Times Survey which recorded 52% Catholic support for a future within the UK, a finding which, as the blog has previously reported, nationalist politicians found hard to credit.
For a sense of how big a challenge it will be for the DUP to pick up Catholic voters it's worth taking a look at this research paper on the Assembly website.
Obviously there are no statistics for the number of DUP voters who were Catholics or Sinn Fein voters who were Protestants, as no-one asks your religion when you walk into a polling station.
However, the research paper shows that only 2% of DUP transfers in the Assembly elections came from nationalist voters - the same percentage as transferred to UUP.
The DUP may at least take solace from the fact that its percentage, whilst tiny, has remained constant. In the UUP's case nationalist transfers dropped from 7% in the last Stormont election in 2007.
'Symbolic purpose'
Sinn Fein's unionist transfers are running at roughly the same rate as the DUP's nationalist tally, at about 2.2%.
Not surprisingly, the SDLP did a lot better at attracting unionist transfers - their tally being 13%.
Alliance, predictably, got a more even spread - with 26% of transfers from nationalists and 24% from unionists.
So whilst Mr Robinson argues that "identity-based voting patterns are crumbling away", the DUP will have its work cut out if it's to build from it's current 2% nationalist transfer base.
Most voters continue to live in segregated communities and, even if nationalists see Northern Ireland as less of a cold house, it doesn't mean they are comfortable defining themselves as unionists.
The DUP leader may be calculating that his comments serve not just a literal but a symbolic purpose.
For the DUP, converting Catholics is a tough proposition, but impressing moderate-minded Protestants that you are on the right trajectory for the future is an easier task.