Parents' anger at Edwin Poots' stance on Strep B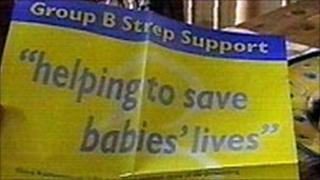 A woman whose baby died after contracting Strep B has said she is angry at the Department of Health's refusal to introduce a test for pregnant women to detect it.
Group B streptococcus is a bacteria that can be passed between a mother and child during a natural birth.
It is the most common cause of blood infections and meningitis in newborns and often causes the death of the baby.
Health Minister Edwin Poots said he would monitor the situation.
In a statement, he said it was understandable that parents whose children had died after contracting the infection were calling for screening.
But he said the UK National Screening Committee (NSC), the expert body which advises the four UK health departments on screening programmes, had kept under review the evidence for screening for Group B Streptococcal (GBS) infection.
"Following the most recent review in 2009, the NSC reaffirmed its advice that screening for GBS should not be offered," he said.
"I will continue to keep this situation under close review."
Belfast woman Gillian Boyd's pregnancy had been normal until her baby was stillborn at full-term.
She said Mr Poots needed to do more.
"With all due respect to Mr Poots, I'm very angered by his statement," she said.
"We're looking to reduce corporation tax we want to be different, but when it suits government we can hide behind UK wide policy.
"Why can't Northern Ireland be different?"
On Thursday, Ms Boyd met the chair of the Assembly health committee, Sinn Fein's Michelle Gildernew.
She said the meeting had been encouraging.
"Michelle has taken the issue very seriously," she added.
"The next step for us is that she is going to invite us to one of the committee meetings, and we're going to address the committee.
Antibiotics
"Then they are going to take it forward with the department."
Sarah Cowan from Banbridge lost her son to the infection in April.
Harry died 11 hours after he was born.
Sarah said a routine test would have saved her baby.
"Like nine out of ten pregnant women I didn't know about Group B Strep," she said.
"I just feel very strongly that there should be a screening programme or even increased awareness at ante-natal appointments.
"I want to make other women aware who are pregnant to go and get that test.
"If they find out they've Group B Strep they can get the antibiotics and not end up in the same situation as me."