Belfast flashpoint largely quiet after day of talks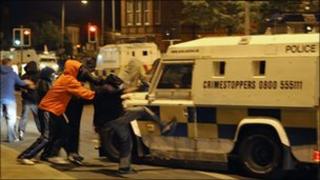 A flashpoint area of east Belfast has remained largely peaceful following two nights of violence.
Loyalist and republican groups were involved in a stand-off for several hours.
A group of nationalist youths began attacking police vehicles, but were stopped by community representatives.
Community workers and politicians held talks on Wednesday. A senior NI government official has been appointed to work with both communities.
Loyalist and nationalist crowds faced each other in an uneasy confrontation on the Mountpottinger Road end of the Short Strand until around 0130 BST on Thursday.
There was a brief flurry of violence just before midnight when some members of the nationalist crowd attacked police landrovers.
It was short lived, and ended when community stewards from the area intervened.
A short distance away on the Lower Newtownards Road, stewards wearing high visibility jackets were also on the streets to prevent violence by loyalists.
Jim Wilson is a Protestant community worker in the area.
Joint effort
"I have to credit some of the church people, politicians, loyalist leaders and the republican movement for their efforts in what we achieved on Wednesday night," he said.
"It wasn't completely free of violence, but it was a lot better than the previous nights.
"I'm hoping that we can take it from night to night, and then we can get back to where people can live in peace on both sides, and the good relations we have built up over the past 20 odd years can be pulled back from the brink and start to be rebuilt."
Belfast Lord Mayor Niall O Donnghaile, who is a Sinn Fein councillor for the area welcomed the reduction in violence.
"The majority of young people from our area and from our community stayed away from the interface and listened to the calls from community representatives who met with them on Wednesday evening, so they played their role in helping us.
'Face them down'
"We were dealing with some people who were coming from outside the area, people who were determined to try and engage in 'recreational rioting'.
"I think on both sides, we have to stand together and I think we have to face them down."
A 22-year-old man from west Belfast was arrested on Wednesday night in connection with the trouble in east Belfast.
Police have said much of the violence during two nights of trouble was orchestrated by the loyalist paramilitary group, the Ulster Volunteer Force (UVF) in east Belfast.
On Tuesday night, a photographer was shot in the leg when a number of shots were discharged. Police said dissident republicans were responsible.
He underwent surgery on Wednesday.
The rioting in east Belfast on Monday and Tuesday night has been described as the worst in the area for ten years.