Facebook poster convicted of menacing DUP MP Campbell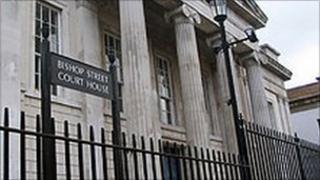 A 31-year-old Londonderry man has been convicted of posting grossly offensive and menacing messages about an MP on Facebook.
Daryl O'Donnell, from Belvedere Park, said the DUP MP Gregory Campbell "should get a bullet in the head" and described him as a "scumbag".
He made the posts following comments from the MP about the findings of the Saville report into Bloody Sunday.
O'Donnell, who denied the comments were threatening, will be sentenced in July.
The Saville inquiry re-examined the deaths of 13 people killed when British soldiers fired on a civil rights march in Derry. A fourteenth died later.
O'Donnell, an unemployed chef and father-of-two, told the city's magistrates court that comments Mr Campbell, the MP for East Londonderry, made criticising the cost of the inquiry into the 1972 shootings made him "very angry".
He told the court that saying the MP "should get a bullet" was because of the deaths on Bloody Sunday and that it had been a "throwaway comment".
"I never meant any harm by it," he said.
"When I woke up the next day and checked my Facebook page, another 1,400 or 1,500 other comments were posted about Gregory Campbell. When I saw my own comment again I decided to take it off because I realised I should have kept my opinions to myself.
"I stand by the comments I said. I did not mean them to be offensive, I was just expressing my opinion."
A detective told the court that the MP had made a complaint to the PSNI after seeing the posts and that he "perceived the comment to be a threat which he took seriously".
Disctrict Judge Barney McElholm said that while many people in Derry had been "outraged" at Mr Campbell's statement on the cost of the inquiry "he was entitled to make them and that is the nature of democracy".
"The Bloody Sunday march was a peaceful demonstration, a dignified demonstration and its bloody aftermath is something we have had to live with over the years," he said.
"But for Mr O'Donnell to post this sort of comment was wrong. These comments are grossly offensive and menacing.
"The problem is when you rouse the rabble it is very hard to put them back into their houses and this country above all has learnt the lesson of that."