Smithwick tribunal garda collusion - 'monstrous lie'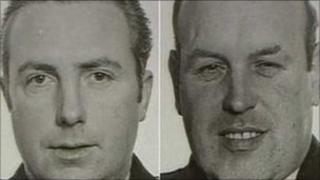 Claims that a former garda sergeant was in the pay of a senior republican were "a monstrous lie", the Smithwick tribunal in Dublin has been told.
The tribunal is investigating alleged garda collusion in the murders of Chief Superintendent Harry Breen and Superintendent Bob Buchanan.
The men were killed in a border ambush in March 1989.
A former RUC officer claimed Chief Supt Breen was concerned that Owen Corrigan was "in the pay of" Thomas slab Murphy.
Retired Detective Chief Inspector Alan Mains, who made the claim on Tuesday, was staff officer for murdered Chief Superintendent Harry Breen.
Mr Mains said he told the then Chief Constable John Hermon of Chief Supt Breen's concerns at a meeting the day after the murders.
This was disputed by the tribunal. Council for Mr Corrigan stated that in earlier evidence Witness 18, who had attended that meeting, said he had no recollection of Mr Mains making that allegation.
'Vicious campaign'
Mr Mains said he did not mention Mr Corrigan's name in his statement to the RUC following the murders because he had been advised not to by a CID officer.
He rejected the suggestion that Harry Breen had never mentioned Owen Corrigan's name to him.
Mr Mains also told the tribunal that he had heard from garda colleagues that the reason Owen Corrigan had been abducted and viciously beaten by the IRA in 1996 was because he owed money to them.
Council for Mr Corrigan said that he had spent 31 years fighting against the brutality and intimidation of the IRA, that he was the garda chosen to carry out the extradition of well-known republican Dominic McGlinchey in 1984, and that he and his wife had been subjected to a vicious campaign of intimidation in Dundalk and Drogheda by the IRA.
Mr Corrigan's lawyer said his client's name was first mentioned in public in connection with IRA collusion eleven-and-a-half years after the murder of the two officers, when he was named by Jeffrey Donaldson in the House of Commons.