SF: Kingsmills families need truth 'like other victims'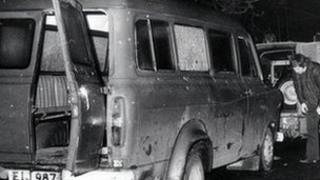 Sinn Fein has said it supports the relatives of the Kingsmills atrocity in their pursuit of justice.
The party spokesperson on victims Mitchel McLaughlin said other killings in the area need to be examined.
"I do not dispute the sectarian nature of the killings, it was entirely wrong and I have no problem in condemning what happened in Kingsmills," he said.
"What happened was not an isolated incident, what about the six people who were murdered the day before?"
"The relatives of those killed in Kingsmills and the survivor are entitled to the truth," he added.
"Our approach is that we would like all of those who subscribed to the conflict and killing, and that includes the British government, to come forward, give the truth and provide answers."
On Tuesday the families of the 10 workmen called for a public inquiry into the killings.
The Historical Enquiries Team (HET) found the IRA was responsible and the victims were targeted because of their religion.
At the time of the massacre the IRA were on ceasefire and the South Armagh Republican Action Force claimed responsibility for the deaths.
Mr McMcLaughlin said he was prepared to accept the findings of an international reputable body that carried out an impartial truth process for everyone that had been involved in the conflict.
"I am prepared to accept the evidence if I have access to that independent process, I am prepared, even though I believe and have believed up to this point the denials by the IRA that they were involved in it," he said.
"If someone has proof that the denial does not stand up to examination then I would be obliged to consider it as a republican and I would, because I do not believe republican principals permit people to be involved in sectarian activity," he added.
"There are many incidences of disputed claims of fact so lets have the British government and all sides coming forward at the same time."
The HET report, which reinvestigated the killings as part of work spanning three decades of conflict, said the attack on the workmen had been carefully planned over a period of time.