New York route is 'loss making' due to passenger tax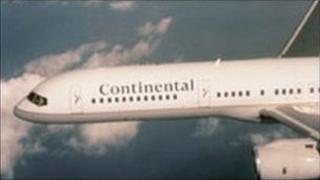 Continental Airlines said it may be forced to withdraw its Belfast to New York route due to the level of air travel tax.
In Belfast APD adds £60 on every flight to New York. However on its flights from Dublin the tax is three euro.
Managing Director for Continental UK and Ireland, Bob Schumacher, said the Belfast route is making a loss.
"In order to compete with our own routes from Ireland we are paying the difference," Mr Schumacher said.
"We see a direct correlation between the amount of money we are losing on the route and the size of the cheque we are writing to Westminster.
"We came to Belfast as we believed that it was a sensible and strong proposition but as these taxes continue to rise it continues to be less of a viable option when it is right next door to a different tax regime where we can offer lower prices," he added.
The route is estimated to be worth around £20m a year to the Northern Ireland economy.
Finance Minister Sammy Wilson, who has submitted a response to the Treasury on the issue, said in the budget the government promised they would review flight tax.
"In the response we have sent to the treasury we have highlighted a number of options," Mr Wilson said.
"Firstly we could have an exemption as others parts in the UK have given their geographical location.
"Secondly the tax could become a flat rate, regardless of distance, which would reduce it considerably and thirdly tax could be devolved to Northern Ireland and we could make up our mind whether to apply APD or not."
The treasury has been consulting on the tax and the first and deputy first minister briefed the chancellor on the issue during his visit to Northern Ireland on Friday.
Meanwhile, MPs from the Northern Ireland Affairs Committee will be at Stormont on Tuesday to hear evidence in their own inquiry into Air Passenger Duty.