Three NI firms win Bombardier wing contracts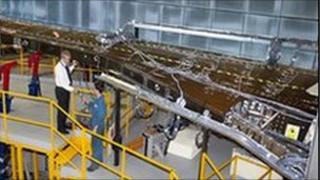 Bombardier Aerospace has awarded contracts worth up to £70m to five companies to make aircraft wings.
Three of them are NI firms: Denroy Plastics Limited, Williams Industrial Services and Kemfast Pass.
Two US companies are setting up facilities in Belfast as a result of the contracts they have won.
The contracts relate to two of Bombardier's aircraft programmes, in which Belfast plays a significant role.
The firms will work on the advanced composite wings for the CSeries aircraft and the composite wing parts for the Learjet 85 aircraft.
Michael Ryan, vice president and general manager, Bombardier Aerospace, Belfast said: "Our ongoing investment in these aircraft wing programmes, and in the construction of our new wing production facility, is not only developing our key capabilities and skills for the future, but is also providing valuable spin-offs and benefits to the wider Northern Ireland economy."
Denroy Plastics Limited, based in Bangor, County Down, has been selected to manufacture injection-moulded thermoplastic hydraulic and fuel brackets for the CSeries aircraft outer wing box.
Williams Industrial Services of Mallusk, Newtownabbey, has been awarded a contract for the supply of two pre-forming machines, which help prepare the composite materials for both the Learjet 85 and CSeries aircraft wings prior to the curing process.
Recruitment
Kemfast Pass, of Belfast, has got a contract to manage the purchase and storage of raw materials, and their onward delivery to the CSeries and Learjet 85 aircraft wing production lines.
To support this, Kemfast is building a storage facility near Bombardier's new wing manufacturing and assembly factory, and is recruiting staff for its operations.
Meanwhile, US company, New Breed Logistics has established a base in Belfast as a result of being selected for work on the CSeries aircraft wing programme.
Nova-Tech Engineering Ltd, a division of US-based TSI, is setting up a new European hub in Belfast as a result of being awarded two contracts.
"These latest contracts are in addition to work we have already awarded to more than 60 local companies over the past three years," said Mr Ryan.
Meanwhile, construction of Bombardier's new 600,000 sq ft (55,742 m2) wing facility is progressing on schedule.
The first phase has been completed and production equipment installed, whilst installation of the semi-automated jigs that will support assembly of the CSeries aircraft wings is also now under way in the second phase of the facility.