Belfast parade Tour of the North ends with violence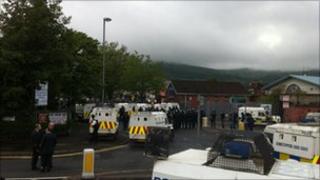 Several PSNI officers were hurt during violence after the Orange Order's Tour of the North parade on Friday.
It is understood they suffered minor injuries when missiles were thrown.
Stones and bottles were thrown after a feeder parade was prevented from walking the length of a road.
The march was rerouted to avoid a flashpoint near a nationalist area.
A police spokesperson said their response had been balanced and proportionate and that their priority was to protect communities whilst upholding the ruling of the Parades Commission.
In its report the commission said it had to weigh the impact on "fragile community relations, the impact on business and private life, the traditionality of the parade and the potential for public disorder" in deciding to reroute the march.
DUP MLA Nelson McCausland said golf balls had been thrown at the Protestant side of the road and condemned all the violence. He said the decision to restrict the parade was wrong.
"There were negotiations over the past number of months between loyalists and republicans about the situation after the tour of the north," he said
"But unfortunately there was no accommodation and the parades commission disempowered people in the unionist community and rewarded republican violence last year by determining that the parade would not be allowed to return up the road."
Joe Marley from the Crumlin Ardoyne Residents Group said the Parades Commission should not be intimidated by the trouble. He said talks on marches in the area should resume.
"I think it is important to stress that the Crumlin Ardoyne Residents group are still up for engagement," he said.
"We have said it in the past that these issues present big challenges, but we're up for the challenge and are prepared to talk to anyone in order to get a lasting resolution."