Belfast's Rotterdam and Pat's Bar demolition plans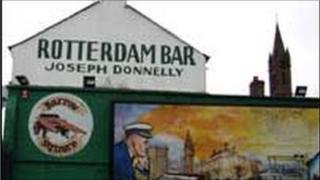 The Planning Service has recommended that a scheme to demolish two well-known dockside pubs in Belfast and replace them with an apartment block should go ahead.
The proposal is to demolish Pat's Bar and The Rotterdam.
They would be replaced with "The Olympic" - 112 apartments built over two ground floor bar/restaurants.
There have been plans to replace the bars since 2007, but progress has been slow due to the property crash.
The proposals are due to be discussed at Belfast City Council later.
The bars were last owned by a Lisburn Road-based developer, Clementine Developments, but in 2009 they were placed into receivership by the local arm of Investec, a South African bank.
The amended plans have been submitted in the name of the receiver, BDO.
The number of floors have been reduced from 21 to 19, meaning the block would be just over 60m high.
Pat's Bar and The Rotterdam have been closed for some months but there are plans to reopen them.
It is not yet clear whether Investec will develop the site or seek to sell it on after planning permission has been obtained.