Humpback whale makes rare visit to Northern Ireland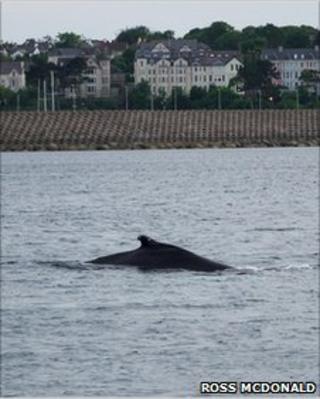 A humpback whale has been spotted off the coast of Northern Ireland for only the third time since records began a century ago.
A group of bird watchers were setting out on a charter boat from Bangor when a humpback whale surfaced beside them.
The Irish Whale and Dolphin Group have confirmed that the animal was a humpback whale.
The whale surfaced at just about 50m from shore and drivers stopped along the coast to view the animal.
Skipper of "the Bangor boat" Brian Meharg said it was a "very exciting moment".
"We were just out of the harbour when there was this explosion of air and water and then the whale surfaced," he said.
"It was such a large animal that people on shore could see it as well. It was a very dramatic experience because of the sheer bulk and size of it."
Padraig Whooley from the Irish Whale and Dolphin Group said it was "a significant sighting".
"They're one of those species that were really hit hard by commercial whaling. As recently as the 1950's and 1960's whale biologists around the world were lamenting the passing of the humpback whale as the next species likely to become extinct," he said.
"These animals that were on the brink of extinction not so very long ago are now returning to Irish waters."
Big picture
Sometimes the group can identify individuals returning from previous years, but Mr Whooley said they believed this individual had not been seen before.
He said this kind of data could only come from members of the public reporting sightings of whales and dolphins.
"The more sightings we have the more data we have and that's why it's really important that people report their sightings to us so we can build up the big picture," he said.
While they are rarely seen around the Northern Irish coast, humpback whales are a species that have a preference for staying close to the coastline.
Mr Whooley said that there are "certain advantages in that, but nowadays there are certain disadvantages".
"The obvious disadvantages are that unfortunately every couple of years humpback whales get caught in ropes going down to lobster pots or crab pots," he said.
"Also as it's the summer people are on the water so there's always the risk that a humpback whale could have a collision. They're quite a slow moving whale and they find it quite difficult to get out of the way of a fast-moving boat.
"So we would ask people if they are going to try to go out in a boat and watch this whale, they give it the space it deserves. And of course this species is protected by law."