Smithwick Inquiry told garda in 'pay of top republican'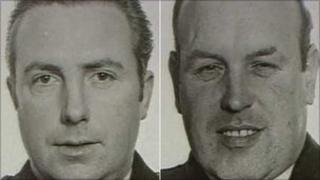 A tribunal in Dublin has heard murdered policeman Harry Breen was concerned that a garda sergeant in Dundalk was in the pay of a senior republican.
Former RUC officer Alan Mains, in evidence to the Smithwick Tribunal, named the republican as Thomas Murphy.
The tribunal is investigating alleged garda collusion in the murders of Chief Superintendent Breen and Superintendent Bob Buchanan.
The men were killed in a border ambush in March 1989.
Staff officer Alan Mains said Mr Breen was uneasy about travelling to Dundalk on the morning of the murders and that he didn't trust former sergeant Owen Corrigan, who, he said, had been previously investigated for his connection to the Provisional IRA.
Mr Mains also directly contradicted earlier evidence given by an RUC witness - Witness 18 - that Harry Breen and Bob Buchanan had been told at a meeting the previous week not to cross the border.
He said that to suggest either man would have disobeyed an order "was a nonsense".
Mr Mains, who became emotional when recalling how he heard news of the murders, said that when he told Chief Constable John Hermon the following day of Mr Breen's concerns regarding Sgt Corrigan, the chief constable was dismissive and said "that was rubbish".