Northern Ireland electricity set to skip UK price hikes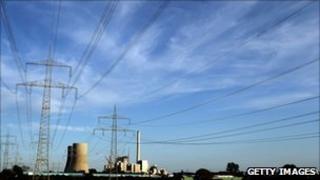 Hikes in electricity tariffs in Britain may leave Northern Ireland consumers enjoying comparatively low power prices this summer, but the autumn may bring a chill to local households.
Consumer prices are rising in Britain where Scottish Power is to raise the cost of electricity by 10%.
The utility firm said the increase, which would affect 2.4m households in the UK, would come into effect from 1 August.
Other power companies are expected to follow.
The price hike in Britain could leave Northern Ireland consumers enjoying some of the lowest tariffs in the British Isles this summer.
NIE Energy has confirmed tariffs here could be significantly cheaper than in other parts of the British Isles.
"We will be 12% cheaper than Scottish Power when their prices go up in August and there is now very little difference between the main GB suppliers and our prices. NIE Energy prices are also well below those in the Republic of Ireland, including Airtricity," said NIE Energy.
Scottish Power last put its prices up in November when its electricity bills went up by 8.9%.
'Frozen'
However, the energy regulator in Britain has been critical of the so called "big six" power companies, claiming they had ratcheted up household tariffs more quickly than they reduced them when wholesale energy costs fell.
NIE Energy claims its electricity prices have been cheaper than Scottish Power for a while now.
Kerstie Forsyth from NIE Energy said: "Our prices have been frozen for over two years, following a cut of over 15% in 2009."
Power companies had been hoping OPEC would sanction an increase in oil production when it met this week and so ease wholesale energy prices.
Instead OPEC voted to keep production levels steady at 24.84m barrels per day, where it has stood since January 2009.
The decision to maintain quotas at current levels may be tempered by some oil exporting countries pumping additional supplies to help meet demand.
Northern Ireland consumers can pencil in an electricity tariff change for 1 October.
Ms Forsyth said: "We plan to review prices this autumn, but whatever the impact of world fuel prices on our electricity prices, this review will be closely scrutinised by the utility regulator."