Grosvenor pupils second in Volvo Adventure Awards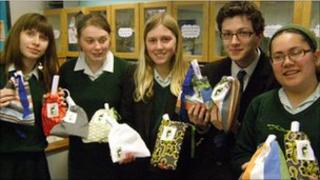 A team of Belfast schoolchildren have come second in a global environmental competition.
The team, from east Belfast's Grosvenor Grammar, was hailed as an "inspiration" at the 10th annual Volvo Adventure Awards in Sweden.
Their 'Think Globally, Eat Locally' project consisted of a herb and vegetable garden in the grounds of the school, designed to make the school canteen totally self-sufficient in vegetables and herbs.
It aims to educate schoolchildren and their teachers about the negative effects of importing out-of-season foods.
They established vegetable and herb gardens and in co-operation with the local canteen are planning to use the school's produce when it's grown.
They also developed grow bags to inspire younger children to plant fruit and veg in their own gardens.
The United Nations Environment Programme (UNEP) and Volvo Adventure officials praised them for their simplicity when creating a concept that was both socially aware and completely sustainable.
Students from as far afield as South Africa, Argentina, the US, Oman, Hungary, Turkey, India and Madagascar took part in the event, which was won by China.
Its project focussed on reducing the use of disposable chopsticks.
Malaysia came third with a wide-ranging programme to fight global warming.
Grosvenor beat off competition from other schools to represent the UK in the competition.
The event's committee said it hoped the Belfast team would invest its £6,000 prize money back into the project.