Facts and figures behind Northern Ireland legal aid dispute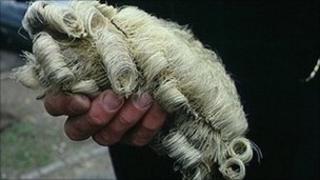 Nearly 300 defendants facing criminal charges do not have legal representation in Northern Ireland due to a dispute over legal aid.
Solicitors have withdrawn their services from 230 cases.
The dispute has been caused by Justice Minister David Ford's attempt to slash the legal aid bill in NI.
The justice minister wants to cut it from £100m to £75m over three years. Some solicitors have withdrawn their services in protest.
Pearse MacDermott from the Solicitors Criminal Bar Association said proper representation was impossible at the proposed new rates.
Mr Ford has said the per capita spend on legal aid - the total budget divided by the population - is higher in Northern Ireland compared to other parts of the UK.
Lawyers in Northern Ireland claim this is an unfair figure to use.
It is complicated by the fact that Scotland (the cheapest region) also uses a public defender system (ie lawyers employed directly by the state) as does Wales to a lesser extent.
The Republic of Ireland has a more liberal use of public defenders, and the cost is even lower there.
So the argument that NI can't compare with other jurisdictions only leads the justice department to suggest introducing a public defender system here, something the lawyers would not be in favour of.
It is unfair to suggest that all solicitors are making vast sums out of legal aid - they're not.
The big money is concentrated in a few big firms. This is one reason why solidarity among solicitors could break down fairly quickly.
In relation to crown court work (ie the criminal end of legal aid where the current dispute lies) in 2009/10 :
61% of solicitors' firms earned less than £20,000
24% earned between £20,000 and £100,000
11% earned between £100,000 and £250,000
3% earned between £250,000 and £500,000
Only one firm (less than 1%) earned over £500,000
However, the lawyers hit back with their own examples which, they say, showed they were much cheaper than England and Wales in key cases.
The Bar Council said the Department of Justice had been using figures based on the per capita spend in Northern Ireland compared with the per capita spend in England and Wales.
This is calculated by dividing the total spend on legal aid by the population. On these figures, Northern Ireland spent 30% more, per head, on legal aid last year than England and Wales.
But this does not necessarily mean Northern Ireland is more expensive. It may simply mean that the region's need for legal aid was greater.
A three-day common assault trial on their figures is a third of the price in Northern Ireland, and a proceeds of crime 10-day confiscation hearing a tenth of the price.
Current Comparative Sample Cases supplied by the Bar Council:
Three-day common assault, counsel and solicitor: England and Wales £2,773
Northern Ireland £990
Fifteen-day murder trial, counsel: England and Wales £31,294
Northern Ireland £23,600
Proceeds of crime 10-day confiscation hearing (45 hours of preparation): England and Wales £4,194
Northern Ireland £400
On Thursday, it emerged a London firm is considering entering the Northern Ireland market.
If an English firm wants to do so, it will have to seek approval from the Law Society in Northern Ireland.
The Law Society has said it has yet to receive a request. It does not have to approve it, but might find it difficult to refuse.
The potential for English firms to see this place as attractive can be seen in the context of the strike opportunity, and the relative financial incentive which will increase whenever the English Ministry of Justice imposes its own drastic cuts on the budget.
Everyone's hungry for business out there and the strike is more likely to fall because other legal firms located in Northern Ireland who tend to concentrate on civil work, may now branch out.
The DoJ has written to all solicitors in Northern Ireland to establish who will work under the new terms.
A full list will be ready by Friday and then given to unrepresented defendants. It is after that point when we will see if the other striking solicitors decide to accept the terms.
The political debate over the budget for legal aid should be seen in much the same context as the health budget debate.
The budget here is reducing because it is reducing at Westminster - there's an automatic read across.
Northern Ireland's is reducing by slightly less (because of Barnett weighting).
The lawyers seem to think the justice minister can put more money on the table - in order to do that he has to persuade one of his ministerial colleagues to offer up some money to him.
That is why Mr Ford is likely to see rock solid executive support behind him on this one.