David Ford said he has offered legal aid compromise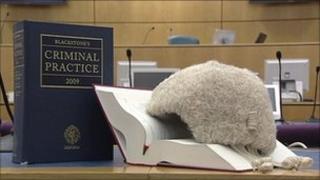 Justice Minister David Ford has said he has offered to compromise with solicitors over the introduction of a new legal aid fee structure.
Earlier, he was accused of bringing in "yellow pack justice" by a solicitors' body.
The justice minister wants to cut the legal aid budget from £100m to £75m over three years. Some solicitors have withdrawn their services in protest.
On Thursday, it emerged a London firm is considering entering the market.
Pearse MacDermott from the Solicitors Criminal Bar Association said proper representation was impossible at the proposed new rates.
'Lowest denominator'
He added: "What the minister is seeking is to get some kind of yellow pack justice. He's looking for the cheapest, lowest common denominator.
"Nobody who is a professional person, who does their job properly, who challenges the prosecution evidence to the nth degree will be able to do this work on the fees being offered by the courts service."
However, Mr Ford said: "I have offered a compromise to the lawyers that if we get enough cases through to do a valid assessment of these current procedures, we will review significantly earlier than the normal two-year review.
"But the simple position is the legislation is now through, that was an honourable compromise, yet what I'm now getting is attacks from solicitors for trying to make that honourable compromise."
Mr Ford says that the current system is unaffordable and that the new rates will still be higher than those in England and Wales.
But Mr MacDermott said that argument was weak because the Public Accounts Committee at Westminster had criticised the lack of funding for the courts services there.
Mr Ford's position has been backed by the Stormont committee which scrutinises his department.
More than 150 criminal cases are currently stalled and more than 200 defendants are without representation.
As well as the London-based firm, it is understood several local companies who previously avoided publicly funded criminal representation are now preparing to take such work.
'Pleasing response'
Negotiations between the department and the Law Society - which represents Northern Ireland's solicitors - have failed to resolve the dispute.
Meanwhile the department has written to all legal firms in Northern Ireland asking them if they would be prepared to work under the new terms.
A final list of willing firms will be ready by Friday and will then be passed directly to defendants who are currently without representation.
It is understood that the department is pleased with the response it has received and believes it will soon have enough new lawyers to clear the backlog of cases.