English law firm seeks slice of £100m legal aid market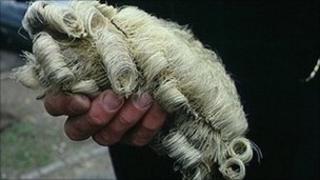 An ongoing strike by publicly paid solicitors has prompted a London legal practice to consider entering the £100m legal aid market in NI.
More than 150 criminal cases are currently stalled and more than 200 defendants are without representation.
Most solicitors who do legally aided work have withdrawn services in protest at reduced fees recently introduced by the Department of Justice.
For other solicitors, the legal strike is an opportunity to win new business.
The BBC understands that at least one major London firm has written to the Department of Justice about possibly setting up shop in Belfast.
Several local firms who previously avoided such work are now preparing to take criminal cases funded through legal aid.
The total bill for publicly funded legal work is expected to top £100m in NI in the coming year, though it will reduce to around £75m over the next three years. It is that reduction which has caused the dispute.
In March, the justice minister introduced new payment rates which will slash £18.3m from the total bill this year.
The Department of Justice said the terms remain more generous in NI than England and Wales or Scotland. But local lawyers are angry and have withdrawn their services.
Negotiations between the department and the Law Society - which represents Northern Ireland's solicitors - have failed to resolve the dispute.
Meanwhile the department has written to all legal firms in Northern Ireland asking them if they would be prepared to work under the new terms.
Willing firms
A final list of willing firms will be ready by Friday and will then be passed directly to defendants who are currently without representation.
It is understood that the department is pleased with the response it has received and believes it will soon have enough new lawyers to clear the backlog of cases.
The Law Society in Northern Ireland is the body which represents the 2,300 solicitors operating in this jurisdiction. Not only does it act as a kind of union representing their members' interests in this dispute, but it is also the professional regulatory body.
Any outside firm seeking to operate in Northern Ireland would require a certificate from the Law Society in NI.
The society could, in theory, withhold permission but it is hard to see how it could ultimately stop a properly incorporated legal firm from setting up in business.
So far, the society said it had yet to receive any such request.
Meanwhile there will be further bad news for the legal profession in Northern Ireland whenever the Northern Ireland Audit Office publishes a report into legal services.
The report, due to be published in the near future, is expected to be highly critical of a system which effectively allowed barristers to double charge for big cases.
In some instances, it is understood that counsel charged a brief fee - which is supposed to include payment for preparation of the case - but then also charged a fee based on hours which also covered preparation work.
This double charging was not illegal, but happened due to governance arrangements in Northern Ireland not being as rigorous as they were in other UK jurisdictions.
The loophole which allowed this to happen was closed in 2009.