Ex-prisoners find their place in society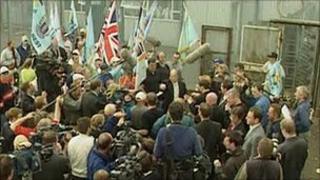 When paramilitary prisoners walked free from the Maze jail just over a decade ago under the terms of the Good Friday agreement, it was a step too far for many people.
Alan McBride, who lost his wife and father-in-law in the IRA Shankill bombing, takes a pragmatic view of it.
"There are some victims who are very clearly of the opinion that the prisoners should never have got out of jail, that they should've been locked up forever and the key thrown away," he said.
"There are others who are more pragmatic and who say, well you know we probably wouldn't have had a peace process if it hadn't been for the endorsement of the prisoners.
"Therefore letting them out of jail if they're going back into their communities to play a constructive role, then perhaps it's a good thing."
A two-day conference examining the contribution of former prisoners is currently under way, involving a wide range of people from educationalists to the PSNI.
Also taking part is former Methodist moderator Harold Good, who was one of the independent witnesses to IRA decommissioning.
'Politically motivated'
"I think we've got to remember that the peace process which we now enjoy the benefits of, wasn't the product of polite conversations in suburban drawing rooms," he said.
"It was largely the contribution of politically motivated prisoners that brought us to where we now are."
A decade ago there were early indicators that plans were already being laid for life after imprisonment.
The last IRA leader in the Maze, Jim McVeigh, has now re-engaged with his trade union roots, as have some of his loyalist counterparts.
"I work for an organisation that works on behalf of ex-prisoners so I've already got a good relationship with people who fought on the other side," he said.
"What is surprising is that both loyalist and republican former prisoners have joined the trade union."
Local SIPTU trade union organiser Niall McNally said Catholic and Protestant working classes uniting under a trade union banner is harking back to socialism in Ireland in the early part of the 20th century.
"I think it's time that we got back to the days of Jim Larkin with Protestant and Catholic working class unity," he said.
Peace money
"That's the sort of engagement that SIPTU wants to involve itself in in the future."
The funding of ex-prisoners groups is seen by sceptics as peace money lining the pockets of former terrorists.
Cairan de Baroid of the Community Foundation for Northern Ireland, the body responsible for overseeing the Prisons to Peace project, said that can't happen.
"The financial audit trail is extremely rigid and anybody who's working with peace money will know that," said.
"We have finance staff here and there is 100% verification of every single item of expenditure.
"Only expenditure that's tied to the work plans that've been identified is eligible. Nothing outside of that would be approved."
Dr Peter Shirlow of Queens University has been involved in academic studies focusing on former paramilitary prisoners.
"The majority of the people that we surveyed have significant mental, social, alcohol and employment related problems," he said.
"The reality of life for the majority of ex-prisoners is not cruising about in BMW cars and going on expensive holidays in the sun.
"It is dealing with the consequences of harm and the consequences of imprisonment.
"These are key grinding problems for them and it's the nature of one of the problems in our society.
"Former prisoners are now isolated within their own communities."
Generally speaking the mood within the ex-prisoners community and those who work with them is positive.
The walls at the Maze prison have come down, but the legacy of all those caught up in the conflict remains.