Bank takes over Peter Curistan's Quito Developments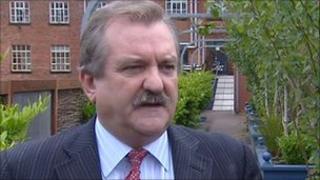 It has emerged that a bank has taken control of another asset which was owned by the troubled property developer Peter Curistan.
Bank of Scotland has appointed an administrator to Quito Developments.
It controlled a multi-storey car park and three shop units at the Tannery Building in Belfast city centre.
The bank is owed almost £17m while another lender, Anglo Irish, is also owed an unspecified sum.
Mr Curistan is involved in a legal battle with Anglo which is trying to recover money it says it is owed by several of his companies.
In April, another Curistan firm, Marcus Ward Ltd, was granted an injunction to prevent Anglo winding up the company over an alleged £10m debt.
Mr Curistan had alleged malpractice by the bank.
At the time Quito Developments was placed into administration, its sole director and shareholder was Marian Curistan.
Mr Curistan has been acting as her nominated representative in dealing with the administrator.
Quito Developments has leased the car park to another company, Shane Silver Ltd. That firm is unaffected by the administration.