University heads say planned cuts 'catastrophic' for NI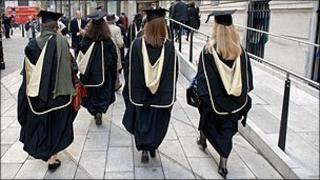 The heads of NI's two universities have warned that cuts to the higher education budget will have a "catastrophic" impact on NI's competitiveness.
The Department of Employment and Learning (DEL) is facing cuts of £40m to its budget.
A public consultation on the future of university tuition fees is due to close on Friday.
A rise in fees would help fill the funding shortfall.
Writing in the Belfast Telegraph, Peter Gregson, vice chancellor at Queen's University, and Richard Barnett, vice chancellor at the University of Ulster urged the executive to take into account the impact of higher education in NI and the important role it plays across all sectors.
Both men said Queen's and the University of Ulster were critical to the success of NI.
"Disinvestment in higher education above the 12% cash savings that we are currently addressing would have a catastrophic impact on not only our institutions, but on all of Northern Ireland," they said.
Mr Gregson and Mr Barnett said any "future decisions should be taken in light of the contribution that our local higher education institutions make to the economy".
The heads said they looked forward to working with the DEL Minister Stephen Farry and other elected representatives to "secure a NI solution to the funding of higher education and student support".
The former DEL minister Danny Kennedy announced proposals in January detailing savings of £68m that his department had to make.
Some of that could be made up by increasing tuition fees, cutting the number of students and changing support given to hard up students.