Report: 'Human factors' led to police helicopter crash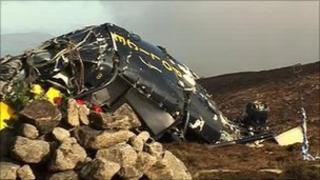 A report into the cause of a helicopter crash on the Mourne Mountains found that the pilot's recent family bereavement was probably "the most significant contributory factor".
It happened close to the scene of a fatal accident five days earlier.
The Air Accidents Investigation Branch (AAIB) report said the "task to be carried out on the day was within the capabilities of the pilot".
It also found that a combination of "human factors" led to the accident.
The pilot, a photographer, an observer and an officer from the police emergency team were assisting in the investigation into the fatal accident when their helicopter overturned. All four were treated for minor injuries.
The report described how on 28 October 2010 there were strong winds in the area. It said the pilot lost control of the helicopter whilst manoeuvring at low speeds on a hilltop landing.
"It descended rapidly with increasing forward ground speed, before striking the ground short of the point of intended landing and passing through a substantial stone wall," the report said.
Correct
It also said the accident occurred on the last planned flight of the morning after several successful landings by the pilot.
"The investigation determined that an error of judgement or perception led the pilot to attempt a downwind approach and a combination of human factors was thought to have contributed to the accident," it continued.
The report said the pilot, who had worked as an instructor and charter pilot since 2007, had arrived in Northern Ireland from England two days before the accident.
"Immediately beforehand, he had suffered a family bereavement," the report said.
"He did not report this to his company and considered on the day he was fit for flying duty.
"However, when the pilot informed the AAIB of the fact he thought it possible (the bereavment) may have been a contributory factor in the accident."
The report cited research on how the death of a close family member has been found to lead to higher level of stress than any other experience. It said such stress would be likely to cause a loss of concentration.
"When the pilot's bereavement became known after the accident the operator emphasised to all its pilots the critical importance of informing the company of any personal issues that may affect their ability to fly safely and effectively," the report said.
In its analysis, the AAIB report found that the helicopter had been operated within the aircrafts limits, on a task permitted by the operating company's remit and within the pilot's capabilities.
"The engines, transmission and flying controls all appear to have been operating correctly," the report said.
It also found once the helicopter got into difficulty the pilot took the "correct recovery actions".
In a statement on Thursday, the PSNI said it "would be studying the findings of the report into the crash of the leased aircraft".