Report says modern day slavery exists in NI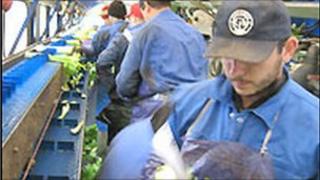 A report published on Wednesday shows that migrants in NI are being forced to work in appalling conditions.
The study found evidence of poor working conditions, low pay, restricted freedom of movement, and verbal and physical abuse.
The areas studied included the fishing, mushroom and catering industries.
It found a small number of migrants were working in modern-day slavery conditions.
The research was carried out by a team at the Institute for Conflict Research for the Joseph Rowntree Foundation.
Vulnerable
Researchers found that exploited migrants were being taken advantage of by both Northern Irish employers and members of their own community.
They found that exploitation was not specifically linked to nationality, age or gender, but associated with the vulnerability of the worker, a lack of English language skills, limited access to social networks, and a lack of local knowledge.
In some cases the workers' immigration status limited their options for escaping an exploitative working environment: some were forced into working without valid visas, while others simply swapped one exploitative employer for another.
Neil Jarman, lead researcher from the Institute for Conflict Research, said: "We found that people would put up with working in very poor conditions and extreme levels of exploitation because it was better than the options available at home.
"Although only a small number of migrant workers are affected, it is vital that vulnerable workers are protected from exploitation by employers."
Support
The report recommends raising awareness and understanding of the issue of forced labour among trade unions, employers' bodies and within key government departments in Northern Ireland, in order to develop a strategy to address the problem.
It also said that community-based support networks are important for exploited migrants and the availability of advice and information can also help reduce the levels of exploitation.
The research, which was carried out between June 2009 and December 2010, is the first study to investigate the scale and extent of forced labour in Northern Ireland.
It highlights a relatively small number of case studies, and identifies problems of forced labour and the exploitation of migrants in a variety of employment sectors, geographical locations and minority ethnic communities.
It is part of a wider research and policy programme on forced labour in the UK.