Naked Adventurer Keith Whelan rescued off Australia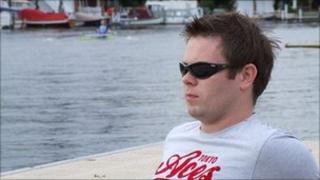 An Irishman attempting to row across the Indian Ocean naked has been rescued after he was injured in rough seas.
Keith Whelan, 29, was trying to become the youngest man, and first Irishman, to complete the 3,720 mile crossing, but hit problems off Western Australia.
A large wave struck his boat as he slept on Monday night. He cut his head when he was thrown across the cabin.
Although he was able to stop the bleeding, he sought help at first light and was picked up by a Japanese ship.
"He was hit by a wave overnight and sustained a large cut to his head," a spokeswoman at the Australian Maritime Safety Authority told the AFP wire service.
"He made a satellite phone call to a contact in the United Kingdom who then contacted Australian authorities and we diverted a merchant ship to pick him up."
Mr Whelan, from Dublin, was attempting the epic voyage naked to raise money for Keep a Child Alive, a charity dedicated to helping children and families affected by HIV/AIDS.
The Japanese ship is now en route to land with Keith on board.
His progress on his journey had previously been hampered by bad weather - including lightning, heavy rain and strong winds.
On his website, The Naked Adventurer, Keith stresses that rowing naked is neither a gimmick nor an act of madness.
"As the ocean is a very salty environment, clothing tends to become encrusted with salt.
"I will have no means of cleaning this from any clothing at sea, so wearing this clothing when full of salt would lead to severe salt sores on my body which is why I will be naked for most of the journey," he said before setting sail on his voyage on 7 May.
He also explains why he took up the challenge.
"At first I thought this was complete madness but at the same time it appealed to me," he said.
"I am a risk taker and risking your life to achieve a dream is the biggest risk you can take.
"Some might say it's foolish but to my mind it is only foolish if you don't know the risks and you don't prepare for them and train for every possible scenario."