Smithwick tribunal deadline - victims group 'concerned'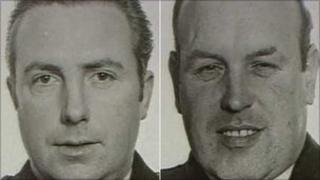 NI's Commission for Victims and Survivors has expressed concern over the imposition of a deadline for a report from the Smithwick Tribunal.
The tribunal has its first public session on Tuesday.
It was set up to examine allegations of Garda collusion in the murder of RUC Chief Superintendent Harry Breen and Superintendent Bob Buchanan in 1989.
Commissioner Patricia MacBride said a time limit must not impact upon its independence and impartiality.
She said the commission had "a duty" to review the effectiveness of law relating to victims and survivors of conflict.
'Difficult days'
Last week, the Irish parliament backed a move by the justice minister, Alan Shatter, to impose a November deadline on the completion of its final report.
"We have requested a meeting with the justice minister, Alan Shatter, and will be seeking from him assurances that resources to complete the tribunal's work are in place," Ms McBride said.
The commissioner said the organisation was "concerned that lack of resources and time limits could have the effect of undermining confidence in the inquiry" and it wanted to ensure this was not the case.
"These are difficult days for the Buchanan and Breen families, as indeed for many families seeking answers about the deaths of their loved ones, and we have a duty as a society to support them in their search," she said.
The tribunal, headed by Judge Peter Smithwick, was established in 2005 but did not begin its formal process until March 2006.
In 2009 the attorney general confirmed that information given by potential witnesses, including an IRA informer, cannot be used in a future prosecution and any witnesses would be given immunity.