Smithwick Tribunal into murder of Breen and Buchanan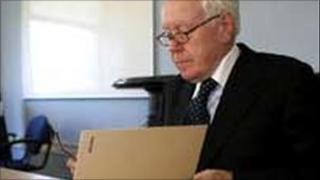 On Monday 20 March 1989, Chief Superintendent Harry Breen travelled to Dundalk with his colleague Superintendent Bob Buchanan to meet with Irish police (gardai) over security issues.
Chief Supt Breen, who commanded most of south Armagh, and his driver Supt Buchanan left their Newry headquarters for what they thought was a routine meeting. But the pair never returned.
Later in the day, as they drove back across the border near Jonesborough, South Armagh, the two senior RUC officers were ambushed in an IRA gun attack.
Supt Buchanan, a father of two, died at the wheel of the unmarked car as he attempted to put it into reverse.
Chief Supt Breen, who also had two children, was found dead on the roadside. The IRA took security documents from the car.
Both men had been unarmed as they had left their weapons behind before leaving for Dundalk.
They were the highest-ranking members of the Royal Ulster Constabulary (RUC) to be murdered during the Troubles and since their murder there have been allegations that the IRA were tipped off about the route the men were taking by a rogue garda officer.
The tribunal into their murders, which is headed by Judge Peter Smithwick, was established to examine the allegations of Irish police collusion.
It is being held in Dublin and was established in 2005 but did not begin its formal process until March 2006.
The tribunal will begin to hear oral evidence from 7 June 2011 and will have to be completed by November.
In 2009 the attorney general confirmed that information given by potential witnesses, including an IRA informer, cannot be used in a future prosecution and any witnesses would be given immunity.
In his opening statement, Judge Peter Smithwick expressed his sympathy to the Breen and Buchanan families.
He said the inquiry would investigate whether there was collusion in the "widest sense of the word".
That means he will also consider whether there was a failure to act to prevent the two officers being murdered.
Open-ended
The Smithwick Tribunal was one of several set up following the recommendations of retired Canadian judge Peter Cory in a report to the British and Irish governments in 2003.
In May 2011, Judge Smithwick wrote to the Irish government to raise concerns at the inquiry's remit.
It is understood the concern is about the November deadline.
In June 2011, DUP MP Jeffrey Donaldson said he was disappointed at the Irish parliament's decision to put a time-limit on the Smithwick Tribunal.
The Irish government has said the deadline would only be extended in exceptional circumstances.
Mr Donaldson said the decision contrasted with its demand for open-ended inquiries in the UK.
He also said the recent inquiry into the murder of Rosemary Nelson had cost £46m while the Smithwick Tribunal has cost £7m.