Travers killer appointment row prompts advisors review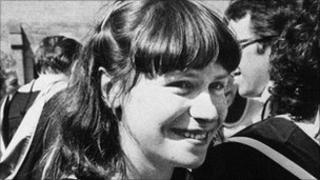 The DUP have announced that Finance Minister Sammy Wilson is to carry out a review of the process for the appointment of special advisors.
The announcement comes amid an ongoing controversy over the appointment of a convicted killer as a Stormont adviser.
Mary McArdle was convicted of killing Mary Travers in 1984 and her new role has angered the Travers family.
First Minister Peter Robinson asked Mr Wilson to launch the review following a meeting with the Travers family.
The meeting took place at DUP headquarters on Friday afternoon.
The DUP said in a statement that Mr Robinson was "very happy to meet with Mrs Travers and expressed his sympathy to Ann and her family".
"The appointment of Mary McArdle as the special advisor at the Department of Culture, Arts and Leisure has caused further hurt to the Travers family," the statement said.
"Mr Robinson has already said that the appointment was insensitive and a mistake."
Mrs McArdle was part of an IRA gang which ambushed magistrate Tom Travers and his family as they left Mass shooting his daughter Mary dead.
The former prisoner was controversially appointed to the role of special adviser last month.
In her first interview since the row began, Mrs McArdle said she regretted the murder and that it was a "tragic mistake" - comments rejected by the Travers' family.
'Entitled'
Earlier, Deputy First Minister Martin McGuinness indicated that Sinn Fein would not reconsider the appointment.
Mr McGuinness said that the killing of the magistrate's daughter was "wrong" and "should never have happened".
But he said those who were part of conflict needed to be part of building a new society.
Mr McGuinness told BBC Radio Ulster's Inside Politics programme that his heart went out to Mary Travers' sister Ann and he fully understood why she would be angered by Ms McArdle's appointment.
He added: "The big question that people have to answer is: are people who have been part of the conflict, are they entitled to have a role in building a better future?"
He said the appointment of IRA hunger striker Leo Green as an adviser at the restoration of devolution had not caused a similar problem.
"There was no controversy about that at that particular time," he said.
"There is controversy now because Ann obviously feels very hurt and I respect the fact that she feels the way she feels.
"But if we were to apply the rule that people who were part of the conflict can't be part of building a better future, then Nelson Mandela would never have been president of South Africa."
And you can hear more of Mr McGuinness' interview with Inside Politics at 1300 BST on BBC Radio Ulster on Sunday.